Unslush the directory is coming soon
Plus save the arts, open a shop, learn to storyboard and much more!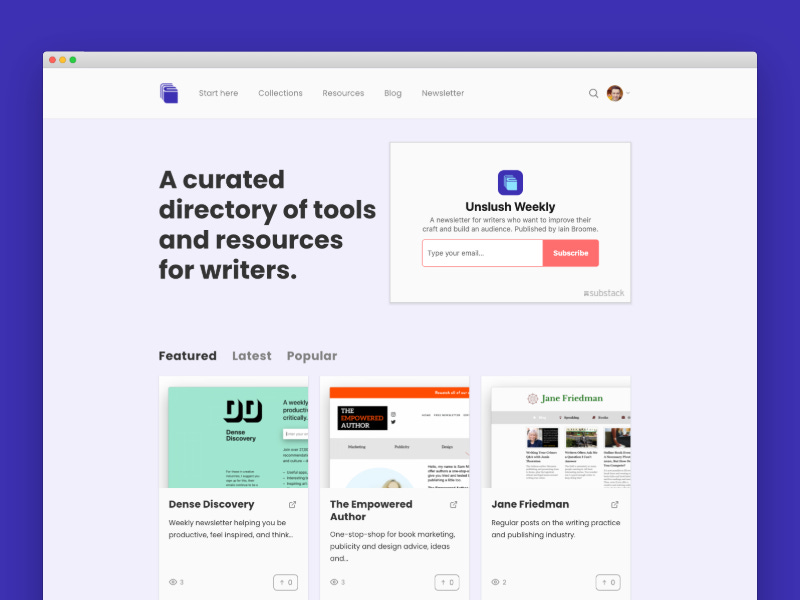 Hello there!
Here I am again – Iain Broome – back with more exciting links and information for writers who want to learn new tricks, find a readership and save the flippin' arts.
First – can everyone join me in offering a huge welcome and socially-distant cuddle to the 70 (seventy!) new subscribers who've signed up since last we emailed. 👋
Second – can you all turn to the left, hold out your hand and offer an equally socially-distant pat on the back to the subscriber in front of you. Because Unslush is now a newsletter with more than 1000 readers. And you are all very special indeed.
Hooray! Thank you for reading! 🎉
Unslush – the website
So a couple of issues ago, I said I was building a new thing to live on the unslush.com web address. I can now tell you that the thing will be a directory of tools and resources for writers (see image above). My feeling is you are going to like it a lot.
Here's a thread you might want to bookmark on Twitter.
Among other things, you'll be able to:
bookmark resources

upvote your favourites

become a curator.
I'm currently adding content to the site, but it should be live on the internet sooner rather than later. There are no plans to change the format of this newsletter, apart from calling it Unslush Weekly to make it clear what's what. What?
This is where I would say go sign up to get notified when it all goes live. But you are literally reading the newsletter right now. So don't worry about it.
Share your thoughts!
What do you think? I'm very much open to feedback and content suggestions, so please use the comment feature on the web version of this email to tell all.
---
Links of the week
Every issue I collect and share the best advice, apps and other shenanigans that I find on my internet travels. Find something useful? Subscribe for free.
"The privilege of having an audience or a readership, the sheer good fortune of that, means one should make every effort to support the work of others and where possible divide any limelight between many voices, many types of work."
---
Help us grow 🌱
If you enjoy this newsletter, there are three things you can do to help it (us!) grow and reach more people. Which would be lovely.
Share it with someone else. Forward the email. Post on social.

Click/tap the little ❤️ icon there at the bottom. It actually helps.
---
Tweets of the week
Tweets are but wild weasels in a parliament full of other vermin. But some of them are quite good. You can follow @iainbroome and @unslush on Twitter.
---
First-time reader?
Unslush is an email newsletter written and published by Iain Broome, freelance copywriter and author of the novel, A is for Angelica.
Join 1000+ other fine people and subscribe for free to get the best writing and publishing-related links sent straight to your inbox. Learn more and sign up.